Celebrity Speakers Announced for Chicago Ultimate Women's Expo 2019
9/18/2019, noon | Updated on 9/18/2019, noon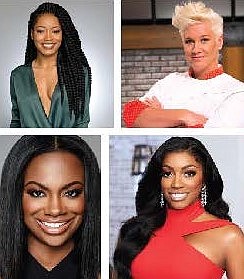 Celebrity Speakers Announced for Chicago Ultimate Women's Expo 2019
The Chicago Ultimate Women's Expo presents a star-studded, empowering and entertaining weekend on October 5-6, 2019 at the Donald E. Stephens Convention Center. Keynote celebrity speakers include:
Keke Palmer, Actress, Music Artist, Bestselling Author and Host of GMA
Kandi Burruss, Grammy Winning Singer/Songwriter, Entrepreneur and Star of BRAVO's "Real Housewives of Atlanta"
Anne Burrell, Star of Food Network's "Chef Wanted", "Worst Cooks in America" and "Secrets of a Restaurant Chef"
Porsha Williams, Co-Host of Dish Nation, Entrepreneur and Star of "Real Housewives of Atlanta"
Graham Elliott, Award Winning Chef and TV Personality from MasterChef, Iron Chef, Top Chef
MC Lyte, Actress and Legendary Entertainer
Dr. Lynn Richardson, Celebrity Financial Coach and Financial Expert on the "Steve Harvey Show"
Each celebrity delivers, in their own unique style, motivational messages on "Living Your Best Life." Prepare to laugh and become inspired as the Keynote Speakers share their personal stories and roadmaps to achieve success and happiness and ultimately live your very best life. Join Keke and Anne on Saturday, October 5th and Kandi, Porsha, Graham, MC Lyte and Dr. Lynn present on Sunday, October 6th.
The Chicago Ultimate Women's Expo also offers women a wealth of memorable, unforgettable experiences:
Tons of Complimentary Beauty Treatments: Haircuts, Manicures, Spa Services, Free Beauty Samples, Hair Stages
Fashion Shows Every Thirty Minutes: Local designers host Runway Shows Every Hour
Craft Classes & Do-It-Herself Workshops: Complimentary Hands-On Classes Teaching Canvas Painting, Wine Glass Painting, Sign Making, Jewelry Making and more
Get Cooking: Talented chefs showcase their culinary skills at the Cooking Stage
Comedy Showcase: The Very Best Comediennes Appearing on the Showcase Stage
Extraordinary Discount Shopping: Over 450 Pop Up Boutiques with One-of-a-Kind Finds in Fashion, Accessories, Jewelry, Emerging Designers, Home Décor and Handbags at Sensational Pricing
Rejuvenate: Enjoy Luxurious Complimentary Massages at the Rejuvenation Garden
Get Started: Chicago's Most Respected Experts in Finance, Healthcare, Career Development, Personal Growth, Style, Beauty will Educate and Inspire as they Share Insights and Reveal Struggles that Propelled them to the top of their fields.
The Chicago Ultimate Women's Expo hours are 10 a.m. to 5 p.m. on Saturday, October 5, and 11 a.m. to 5 p.m. on Sunday, October 6 at the Donald E. Stephens Convention Center in Rosemont.
Advance tickets are $5.00 when purchased online at www.ChicagoWomensExpo.com and include all makeovers, tastings, Celebrity Speakers, shows, seminars and more.