LEADER IN MARIJUANA LEGALIZATION WILL RESIGN FROM SENATE OFFICE TO OVERSEE IMPLEMENTATION
10/9/2019, noon | Updated on 10/9/2019, noon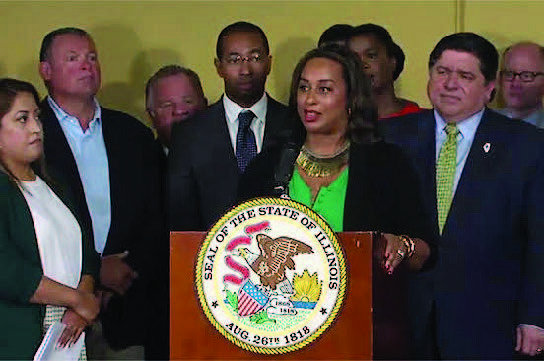 Leader in Marijuana Legalization Will Resign From Senate Office To Oversee Implementation
BY KATHERINE NEWMAN
Illinois State Senator Toi Hutchinson recently announced that she will be resigning from her elected office to accept Illinois Governor J.B. Pritzker's offer to oversee the implementation of the recently passed legislation that legalizes recreational marijuana use in Illinois.
Senator Hutchinson was a leading legislator when it came to legalizing recreational marijuana use in the State of Illinois and also advocated for the legislation, which takes effect Jan. 1, to prioritize restorative justice measures.
"I am so proud to have an instance of working on this issue that I know almost never comes to most policymakers," said Hutchinson.
Hutchinson said that while working on the legislation, she found herself in spaces where she had to "roll up her sleeves" and talk to people who did not agree with what she was trying to do. She said that she worked hard to show up in communities where folks were "worrying and afraid" about what marijuana legalization would mean for their communities.
"There was no one pushing us to do this, we did this because we thought it was the right thing to do," said Hutchinson.
The passage of this monumental legislation makes Illinois the 11th state to legalize marijuana for recreational use. The law states that beginning on Jan. 1, adults who are 21 or older will legally be able to possess up to 30 grams of cannabis flower, 5 grams of cannabis concentrate, and 500 milligrams of THC contained in a cannabis-infused product.
Additionally, the Illinois marijuana legalization legislation includes the automatic expungement of convictions related to the possession of 30 grams of marijuana or less. The law also creates the Recover, Reinvest and Renew Program (R3) program which will provide grants and assistance to communities that have been directly harmed by discriminatory drug laws in the past, according to information provided by the Office of Illinois State Senator Toi Hutchinson.
"Toi Hutchinson has been an outstanding and highly effective advocate for her constituents and all the people of Illinois," said Pritzker in a written statement. "She has thoroughly impressed me with her drive, insight, and ability to get big things done. I couldn't be more proud that she has agreed to join my administration and bring her leadership to our effort at keeping equity at the forefront of the state's new adult-use cannabis industry."
Lastly, the legislation lays out that after agency administrative needs and costs related to expungement are covered, the remaining revenue from taxes and licensing fees from marijuana legalization will go towards public education and safety campaigns, law enforcement training, the R3 Program, preventative substance abuse programs and mental health services, and the remaining amount will go to the state's General Revenue Fund, according to information provided by the Office of Illinois State Senator Toi Hutchinson.