Small Business Job Growth Slows in June, While Wage Growth Increases
7/10/2019, noon | Updated on 7/10/2019, noon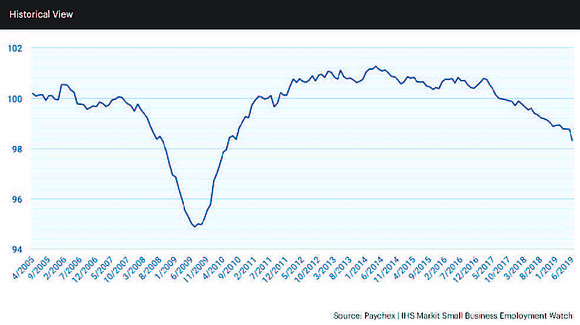 Small Business Job Growth Slows in June, While Wage Growth Increases
The Paychex | IHS Markit Small Business Employment Watch for June shows slowing small business job growth accompanied by continued steady wage growth, together indications of an increasingly tight labor market.
The national jobs index fell 0.45 percent from the previous month to 98.32 in June. Conversely, with a three-month annualized growth rate near three percent, hourly earnings growth during the past quarter is the strongest since 2017. Hourly earnings growth rose to 2.65 percent ($0.70) in June, while weekly earnings growth fell to 2.02 percent due to a continued decrease in hours worked from a year ago.
"The two-year long, gradual slowing of small business job growth took on a more rapid pace in June with the index declining to 98.32," said James Diffley, chief regional economist at IHS Markit.
"The jobs index is still reflective of employment growth, though at a slower pace than recent years," said Martin Mucci, Paychex president and CEO. "With hourly earnings growth increasing, it appears the challenging hiring environment is finally starting to push wage growth higher for small business workers."
Broken down further by geography and industry, the June report showed:
The South continues to lead regions in employment growth; the West remains the top region for hourly earnings growth.
Texas holds the top spot among states for small business job growth; Illinois held its lead among states for wage growth.
Dallas is again the top metro for job growth; San Diego continues to lead metros for wage growth.
Falling to 97.75, job growth in Leisure and Hospitality slowed the most in June at 0.85 percent.
The complete results for June, including interactive charts detailing all data at a national, regional, state, metro, and industry level, are available at www.paychex.com/employment-watch.
For more information about the Paychex | IHS Markit Small Business Employment Watch, visit www.paychex.com/employment-watch and sign up to receive monthly Employment Watch alerts.