RECENTLY RELEASED REPORT FINDS RACIAL DISPARITIES IN CHICAGO'S TECHNOLOGY SECTOR
7/10/2019, noon | Updated on 7/10/2019, noon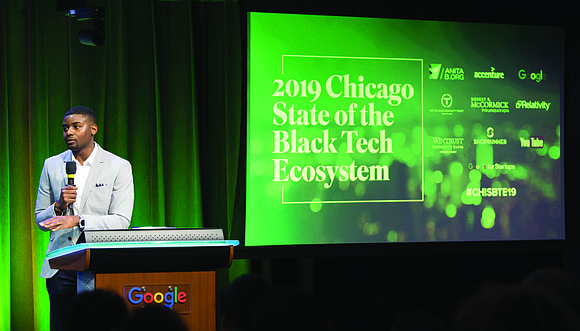 Recently Released Report Finds Racial Disparities In Chicago's Technology Sector
BY KATHERINE NEWMAN
A Chicago-based think tank, Black Tech Mecca, recently hosted it's 2019 State of the Black Tech Ecosystem conference where technology industry leaders, educators, and economic development experts all gathered to discuss the racial disparities that exist in Chicago's tech sector.
In addition to the conversations that took place, Black Tech Mecca also released their own data-driven State of the Black Tech Ecosystem report and gave recommendations on how technology opportunities and employers could adapt to become more equitable.
"Our main focus is on helping cities to assess the racial equity in their local tech ecosystem so that they can drive measurable growth. Our goal is to help cities activate what we call a Smart Black Tech Ecosystem which essentially is just an ecosystem where resources are being optimized through data-driven insight," said Fabian Elliott, CEO and co-founder of Black Tech Mecca.
Black Tech Mecca's mission is to inspire the development of Black Tech Ecosystems that will guarantee black people are able to fully participate in the global technology sector. The organization uses data to better understand the racial disparities that exist in technology careers and then works with local stakeholders to build strategies for eliminating barriers and creating opportunities for black people to enter the tech sector, according to information provided by Black Tech Mecca.
The State of the Black Tech Ecosystem report laid out several key findings regarding Chicago's tech ecosystem. The report found that there are 135 youth coding programs and camps available in Chicago but the majority are being offered downtown and in north side neighborhoods and only 16 operate during the school year. Also, among the 32 tech incubators and accelerators identified in Chicago, only seven were physically located within five miles of a predominantly black neighborhood.
"One of the findings that stands out and the one that jumps off the page to me is what we found about black women and senior leadership," said Elliot. "A lot of times, we're either talking about race or we're just talking about gender and we don't look at intersectionality as often. I was just shocked that there was such a gaping difference when you keep gender consistent and when you look between white women and black women."
The report found that while women are underrepresented in tech corporations, black women have significantly less representation than their white counterparts. In Illinois, there is only one black woman in senior leadership for every 151 tech workers and among white women, it's one for every 10.
To wrap things up, the State of the Black Tech Ecosystem report gives recommendations on how to close these racial gaps in the technology sector and create more opportunities for black participation.
The report recommends providing city incentives and grants for incubators and accelerators to establish hubs in predominantly black and low-income neighborhoods and developing a citywide coalition to expand Science, Technology, Engineering, and Math (STEM) programs inside and outside classrooms starting in kindergarten.
To learn more about the Black Tech Mecca visitwww.blacktechmecca.org.