CONCERNED SOUTH SUBURBAN LAWMAKERS CALL FOR PUBLIC REVIEW OF METROSOUTH CLOSURE
7/3/2019, noon | Updated on 7/3/2019, noon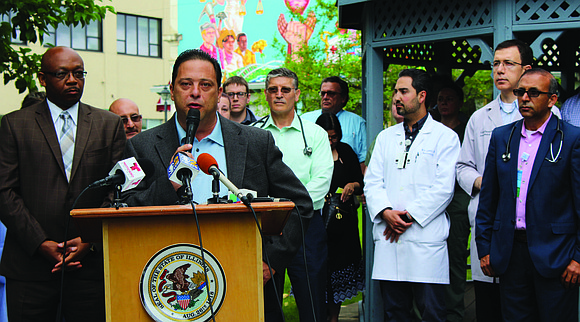 Concerned South Suburban Lawmakers Call For Public Review Of MetroSouth Closure
BY KATHERINE NEWMAN
A letter signed by State Representatives Robert Rita, William Davis, Justin Slaughter and State Senator Emil Jones III was recently sent to the Illinois Health Facilities and Services Review Board to request a public hearing on the proposed closure of MetroSouth Medical Center in Blue Island.
"The Board members need to come to Blue Island and hear for themselves what the impact this closure will have on our community," said Rita. "We have written a letter requesting a public hearing in Blue Island, and it is my hope that this meeting will be well-attended by the Board members."
During a recent press conference, the involved Illinois lawmakers joined with local hospital employees to reiterate their request for the Illinois Health Facilities and Services Review Board to hold a public hearing in Blue Island regarding the matter.
"We are a huge resource for strokes and heart attacks but more than that we are also a resource for people in the community who have conditions that are not going to instantly kill them but still require ongoing care, like diabetes and heart failure," said Joshua Dworetzky, internal medicine physician and associate medical director and MetroSouth Medical Center.
While there are other hospitals and medical centers in the south suburbs, Dworetzky said that it isn't always an option for people to travel to receive the care that they need and it could prevent people from keeping up with their chronic health conditions.
"Not everyone has access to the same transportation and not everyone can easily make it out because they don't have family members who can drive them to appointments. That's why we need something in the community so all our patients don't have to go elsewhere," said Dworetzky.
In addition to patients losing a resource, MetroSouth Medical Center employees will have to find work elsewhere. In an announcement from MetroSouth Medical Center about the proposed closure, it was stated that current employees will receive compensation for staying until the end of their employment term and assistance will be provided to help them connect with new employers.
Earlier this month, MetroSouth Medical Center announced that they had filed an application with the Illinois Health Facilities and Service Review Board to discontinue hospital operations at the Blue Island campus located on 12935 S. Gregory St. due to a decrease of patient volumes and ongoing operational losses.
"I know for them it's about finances, and that's fine, but at the end of the day, hospital medicine can't just be a strict business. All of us got into this field because we care about our communities and we care about our people and we'd like to continue doing so. Hopefully, someone will be able to come in and help us with that," said Dworetzky.