Dr. King honored by McDonald's with free breakfast
1/18/2019, noon | Updated on 1/18/2019, noon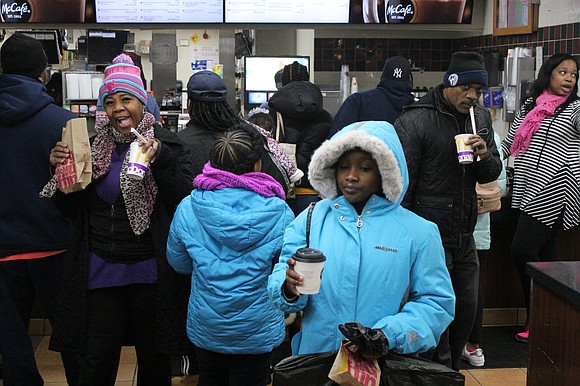 Dr. King honored by McDonald's with free breakfast
By Wendell Hutson, Contributing Writer
A Chatham businesswoman recently sponsored a free breakfast at her South Side restaurant as a way to honor the legacy of civil rights leader Dr. Martin L. King Jr.
Cheryl Taylor owns the McDonald's restaurant at 7900 S. King Drive and on Jan. 18, the first 107 customers were given a free breakfast. The event ran from 6 a.m. to 10 a.m. and was broadcast live on WGCI FM (107.5 FM).
"The breakfast was to honor Dr. Martin Luther King Jr. and his life, legacy and principles. This was my first time hosting a breakfast event for Dr. King and I would love to do it every year," said Taylor, whose husband Derrick Taylor is president of the Black McDonald's Operators Association of Chicagoland & Northwest Indiana (BMOA). "The vision that Dr. King had about a beloved community is something I try to emulate in my life."
By 7 a.m., the event had reached its 107 person goal, which included Auburn Gresham resident Debra Pleasant.
"I am a regular McDonald's customer. I come to this McDonald's almost every morning for breakfast before I go to work," said Pleasant, 57. "Dr. King made a lot of stuff possible for us blacks and I thank him for all that he did. We no longer have to be seated in the rear at restaurants. We can sit upfront by the window where people can see us as they walk by."
Eating sausages and eggs at the event was David Brown, 60, another Auburn Gresham resident.
"Things like this need to continue but we should also be honoring other famous blacks like Barack Obama," said Brown, who admitted he likes to also eat at rival Burger King too. "I try to practice nonviolence like Dr. King as long as no one messes with me. I'm a peaceful person until someone acts ignorant with me."
The restaurant was filled with children laughing and enjoying breakfast before heading off to school. That's why Hyde Park resident Precious Stighe, 28, said she brought her two, small daughters to the event.
"I knew there would be other children here and my kids like eating at McDonald's anyway," she said. "I have a home-based business but I hope to have a brick and mortar location in the future so I can give back to the community like McDonald's."
But parents, children and local residents were not the only ones enjoying a free breakfast at the Chatham restaurant. Military veteran Michael Brooks, 63, who is homeless, was also taking advantage of a free meal.
"It feels good to eat fresh McDonald's and not dig in the trash can outside," said Brooks. "I am not ashamed nor am I too proud to ask for help. I served my country in the Army for 14 years, so the way I see it, I earned a free breakfast today."
Helping veterans especially those who are homeless is something Taylor said she tries to do.
"We cannot forget what veterans did for this country and every chance I get, I try to let them know how much I appreciate their bravery and sacrifices."
Last November, Taylor gave away 500 turkeys to the community at her other McDonald's restaurant, 7601 S. Vincennes Ave. The turkey giveaway was part of BMOA's annual Food for the Body & Spirit event it sponsors at various McDonald's restaurants.