Inspired by children who are visually impaired, X-Marks the Spot creates a theater event for everyone
2/6/2019, noon | Updated on 2/6/2019, noon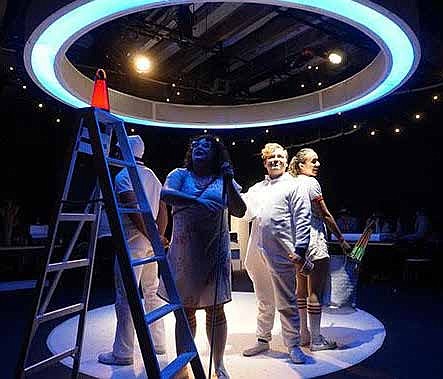 Inspired by children who are visually impaired, X-Marks the Spot creates a theater event for everyone
Calling all moms and dads! The Chicago Children's Theatre is inviting you and your kids to X-Marks the Spot, an all-new form of "X-Tra Sensory Theatre" inspired by children who are visually impaired, but created for all audiences.
That's right. Close your eyes. Because X-Marks the Spot: An X-Tra Sensory Xperience uses sounds, voices, tastes, and touchable, scented props to create an
all-new multisensory theater event, ideal for children and parents to experience together.
At X-Marks the Spot, audiences enter the theater to find a magical, low-light, communal setting. The first surprise is how fast the other four senses jump to life, ready to take in the interactive fun soon to come. Then, actors perform a spine-tingling story about a family of adventurers using a highly choreographed series of props, sounds, tastes and smells that stimulate the senses and bring the play to life.
So don't miss X-Marks the Spot, an unforgettable new theater experience that helps kids appreciate all of their senses. Performances are running now through February 24, 2019: Saturday and Sunday at 11:30 a.m. Single tickets are $35. Visit
chicagochildrenstheatre.org or call Chicago Children's Theatre Guest Services, (312) 374-8835 for single tickets, subscriptions, information on school performances and group rates.
Chicago Children's Theatre, The Station, is located at 100 S. Racine Ave. in Chicago's West Loop neighborhood. The Station is minutes from I-90 and I-290, as well as downtown and Ashland Avenue. Chicago Children's Theatre offers free onsite parking on the south side of the building, entering from Racine Ave.
Additional street parking is usually readily available nearby on weekends, or look for the Impark parking lot, 1301 W. Madison St. According to a press release, X-Marks the Spot is ideal for families with children ages 8 and up. The show on Sunday, February 10 is sensory-friendly, with a quiet room and family restroom available.
Listen! Smell! Touch! Taste! Behind the scenes of X-Marks the Spot X-Marks the Spot: An X-Tra Sensory Xperience is conceived and directed by Jacqueline Russell, co-founder and artistic director, Chicago Children's Theatre. The work
was deeply informed by her semester-long residency last spring with students who are visually impaired at a CPS elementary school.
It also builds on Russell's efforts throughout her career to create theater that is inclusive of all audiences, best evidenced by her acclaimed Red Kite Project productions and camps for children on the autism spectrum.
"Creating theater that's inclusive of all of Chicago's children is core to CCT's mission," said Russell. "My drama residency work last spring with students who are visually impaired inspired me to try something brand new that would be special for them to experience, but will also be equally delightful and engaging for everyone."
Paris Ray Dozier, son of Motown legend Lamont Dozier, who co-created the music for Chicago Children's Theatre's hit world premiere Last Stop on Market Street last spring, is teaming with Russell to create original music and sound for X-Marks the Spot.