From CityKey Expansions To A Women And Girls Report, City Clerk Has Big Plans For 2019
2/6/2019, noon | Updated on 2/6/2019, noon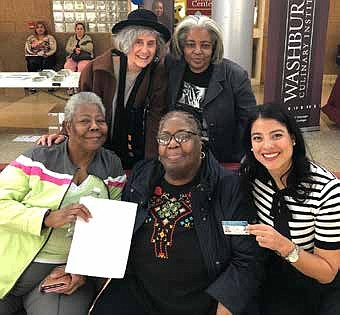 From CityKey Expansions To A Women And Girls Report, City Clerk Has Big Plans For 2019
BY KATHERINE NEWMAN
City Clerk Anna M. Valencia is the only woman of color to hold one of just three city-wide elected positions in Chicago. She was sworn into office in January of 2017 and since then she has been responsible for overseeing one of the largest offices in the city.
Aside from her assigned duties of keeping official city documents and making them accessible to the public, Valencia has taken the Office of the City Clerk to another level by prioritizing innovation as she looks for better ways to bring services directly to residents.
In setting goals for 2019, two key initiatives are on the City Clerk's mind and they are further expanding the CityKey program and launching a report on the Status of Women and Girls.
"We are still working on Chicago CityKey all the time," said Valencia. "We are constantly learning how to revamp the program or how to keep adding to its success and make sure that it keeps positively impacting our residents."
The CityKey program launched in April of last year and is an identification card that serves as a persons government-issued ID, Ventra card, and library card all in one.
Through a growing list of partners, City Key cardholders also have access to exclusive benefits and discounts at businesses, cultural and financial institutions,
restaurants, and from sports teams across the city. Valencia said that she believes "government is here to help you and to remove barriers, not create them," and the CityKey program is an example of that.
Launching in March is the report on the Status of Women and Girls which has brought together Chicago woman from all areas, backgrounds, professional fields, and walks-of-life to collaboratively create a report on how to better serve women and girls in the city.
"It is a working group that we launched in October with 120 women including everyone from the executive vice president of Northern Trust, to United Here women that work in hotels, to young high school girls in mentoring programs
like Ladies of Virtue and WOW (Working on Womanhood), to civic leaders, and everyone in-between," said Valencia.
The report will look at how to close the gender gap in our city and communicate what exactly can be done to help women and girls thrive in Chicago.
"We don't want to wait for people to tell us what we need, we want to show them what we need and ask them to give us the resources for us to be successful.
That's how this started. There are a lot of women in Chicago that were amped up and ready to get to work," said Valencia. "I look at being City Clerk and being the only female city-wide person of color elected and see that it's kind of my responsibility to use this platform and this influence that I have here to do more."
To learn more about the Office of the City Clerk visit chicityclerk.com.