City Council Passes Resolution To Create Public Mental Health Task Force
2/6/2019, noon | Updated on 2/6/2019, noon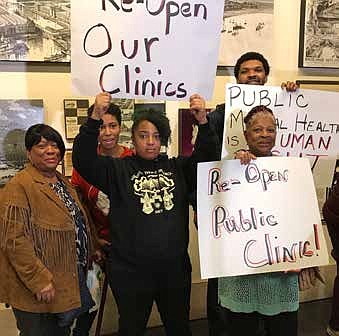 City Council Passes Resolution To Create Public Mental Health Task Force
BY KATHERINE NEWMAN
There are only five public mental health clinics in the City of Chicago, a number that is below half of what existed prior to mental health funding cuts that began to take place in 2012.
After hearing concerns from community members, the Chicago City Council recently
voted in favor of creating a Public Mental Health Clinic Service Expansion Task Force to explore how the city might be able to improve it's mental health services.
"We are all aware of the anecdotal issues related to gaps in mental health care that face our wards. We are calling for a task force to reexamine the state of mental health resources in the City of Chicago. We are asking for the task force to examine all aspects of the mental health landscape and to come back to the committee with recommendations including a budget to move forward. This task force will bring a diverse group of stakeholders to the table," said Fourth Ward Alderman Sophia King. "The Public Mental Health Clinic Service Expansion Task Force will be charged with completing a comprehensive study to point out the gaps in our mental health services that can be reduced or closed. There are no options off the table and we will look at the possibility of reopening clinics and or increasing staffing and resources at our current facilities."
Southside Together Organizing for Power or (STOP) has been particularly active when it comes to advocating for public mental health services and for the Public Mental Health Clinic Service Expansion Task Force.
STOP is a community organization that empowers residents of Chicago's south side communities who together are able to create an impact on the forces and decisions that affect their quality of life.
"We have a STOP board member and long term mental health advocate who talked about losing her son to gun violence in 1996 and becoming suicidally depressed and attempting suicide not long after that which resulted in her being in a coma and then having to relearn to walk and talk. She was able to utilize those public clinics long term and still goes there for long-term trauma-informed care which doesn't typically happen in private clinic environments," said Amika Tendaji, mental health organizer for STOP.
Many people are limited from accessing mental health services due to systemic barriers, like transportation, while others are unknowingly limiting themselves from accessing mental health services because they are not informed on how their mental health is affecting them, according to Tendaji.
"You've got young people who are losing a person a year to gun violence and don't understand what post-traumatic stress disorder is. We have to raise awareness for people to understand the need," said Tendaji.
The new Public Mental Health Clinic Service Expansion Task Force will provide a wealth of new data on the status of public mental health in Chicago and Tendaji said she is looking forward to being able to review and utilize those results.