LA RABIDA CHILDREN'S HOSPITAL INTRODUCES NEW SICKLE CELL TREATMENT
4/10/2019, noon | Updated on 4/10/2019, noon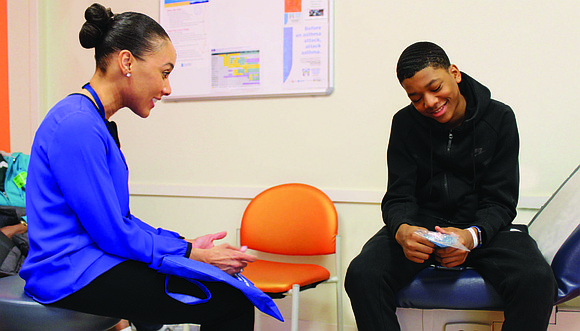 La Rabida Children's Hospital Introduces New Sickle Cell Treatment
BY KATHERINE NEWMAN
Sickle Cell Disease is an inherited red blood cell disease that affects about 100,000 Americans and is known to be more prevalent in certain racial groups. One out of every 365 African American children are born with the illness and will show symptoms within their first year of life, according to the U.S. Center for Disease Control.
La Rabida Children's Hospital in South Shore has the largest pediatric sickle cell program in the Chicago area, according to their website, and they have recently implemented a new Sickle Cell Integrated Pain Program that is designed to be a one-stop shop for the needs of sickle cell patients who are between the ages of 10 and 17.
Sickle Cell Disease affects a person's red blood cells and causes them to become hard, sticky, and C-shaped instead of the healthy round shape they should be. The sickle cells can get stuck and clog blood flow which causes pain and other serious problems such as infection, acute chest syndrome, and strokes.
"Most of our patients come to the hospital when they are in crisis and not anytime prior to that, said Dr. Jasmin Searcy, a pediatric psychologist at La Rabida Children's Hospital. "What I said was, let's make a program that targets a couple of things but mostly pain management with the goal of decreasing the number of inpatient admissions by teaching our population helpful and useful evidence-based pain management strategies."
The Sickle Cell Integrated Pain Program provides a new level of comprehensive care for La Rabida's sickle cell patients and their families. Patients will be able to have hour-long appointments at the hospital where they can meet with a variety of specialists from the rehab, psychology, social work, and nutrition departments.
"This program is unique because its only for Sickle Cell Patients and it's a one stop shop. Patients are in and out within an hour or hour and a half but they get to see everyone," said Searcy.
Everything is on site and patients have the opportunity to visit with specialists and learn pain management techniques and coping strategies like deep breathing, mindfulness exercise, yoga, journaling, music, art, meditation, and aromatherapy. La Rabida and Dr. Searcy hope that these strategies can help patients and their caregivers manage sickle cell symptoms and shift their thinking to something other than their pain.
"Research suggests that if we give patients and their families the tools to be successful then their overall quality of life will be much better. From a sickle cell standpoint, I am hoping that this increases our patients coping mechanisms for pain and will decrease the number of inpatient hospitalizations," said Searcy.
Dr. Searcy is currently in the process of applying for grant funding to further improve the quality of the Sickle Cell Integrated Pain Program and said that she is excited to work with community members that would like to be involved in supporting this new initiative. To learn more visit www.larabida.org.