Gift of Hope Will Open Community Partnership Center On The South Side
4/10/2019, noon | Updated on 4/10/2019, noon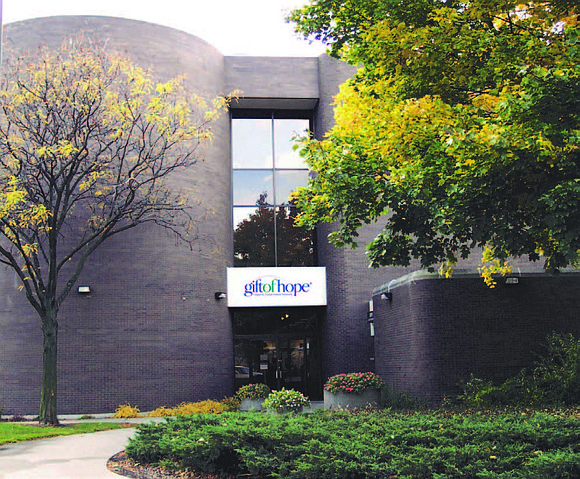 Gift of Hope Will Open Community Partnership Center On The South Side
BY KATHERINE NEWMAN
Gift of Hope Organ and Tissue Donor Network recently acquired a 48,000 square-foot three-story-building at 7936 S. Cottage Grove Ave. in the Chatham neighborhood that will soon be transformed into a Community Partnership Center.
The building will be home to a healthcare training facility, several allied health care operations, a community development incubator, and the organization's new Chicago office.
"The building is 48,000 square feet which is way more than we envisioned when we came up with this idea and it's going to serve several purposes," said Kevin Cmunt, CEO and president of Gift of Hope Organ and Tissue Donor Network.
The building will be a community hub and offer a variety of services for residents. Up to 22,000 square feet of space will be available for allied healthcare partners to lease if they are interested in becoming part of the community. There will be up to 2,000 square feet of office space and conference rooms available for local nonprofits to utilize. Lastly, there will be a training center in the building to provide basic job-skill training and medical technology education for recent high school graduates.
"The main function, we hope, is to act as a training facility. Our plan is to take kids from local high schools who are not college bound but are good kids with limited opportunities. We want to bring those kids in and help them learn some basic skills," said Cmunt. "We
envision taking kids and giving them a different path and an opportunity to get onto the rungs of success and get them out into the workforce making $18 to $20 an hour."
The Gift of Hope Organ and Tissue Donor Network serves as the federally designated non-profit agency that coordinates organ and tissue donation and supports families of donors in the northern three-quarters of Illinois and northwest Indiana, according to information provided by Gift of Hope.
"We cover 12 million people, 9 transplant programs, and 185 hospitals in our service area. Our job is to meet families during the worst moment of their lives because we meet them when they have just lost the most important person in their life," said Cmunt. "We talk to them about rewriting the end of that story. Instead of the life of their loved one ending in tragic death, we have an opportunity to create new life if they agree to organ and tissue donation."
Unfortunately, Gift of Hope spends more time meeting with families on the south side and west sides of Chicago compared to other parts of their donor service area because of the higher rates of poverty and violence that currently exist there, according to Cmunt. For this reason, the organization decided to invest in the south side and open the new Community Partnership Center.
"We are asking people to make an incredibly altruistic gift through organ and tissue donation and if the families know something about us, we are much more likely to have a great conversation with them
and have a great outcome," said Cmunt.