Community Activists Speak Out About Chicago's Bike Share Program
4/10/2019, noon | Updated on 4/10/2019, noon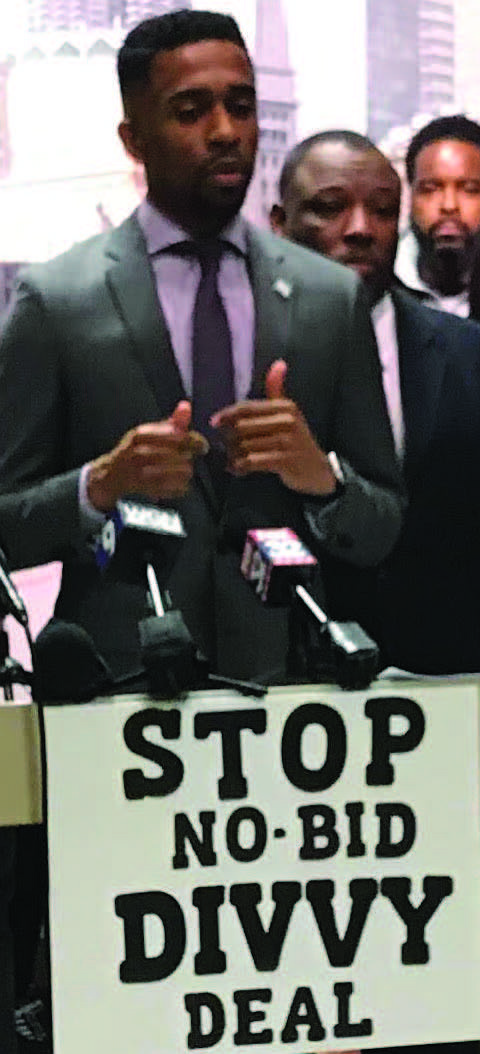 Community Activists Speak Out About Chicago's Bike Share Program
BY KATHERINE NEWMAN
Chicago's City Council will soon vote on whether or not to allow Lyft, a well know ride-sharing company, to exclusively take over operation of the city's blue Divvy Bikes for nine years. The deal would include a $50 million investment from Lyft that would be used to expand the city's bike sharing network to all 50 wards by 2021 and include 10,500 new bikes and 175 new stations.
During a recent press conference, community and business leaders from across Chicago spoke out against the deal saying that the city should not grant anyone exclusive rights to operate Chicago's bike-sharing program.
In addition to the deal with Lyft, the city was presented with an offer from Uber, another ride-sharing company, who owns and operates JUMP bikes which were recently piloted in several south side communities this past summer.
JUMP is offering a $450 million investment that would include 20,000 dock-less bikes and 20,000 electric scooters across all 50 wards and would create 500 jobs on the south and west sides, according to information provided during the press conference.
"This is an issue of equity when it comes to the topic of bike sharing," said Tim Jones, leader of Leave No Potential On The Table. "Black and brown neighborhoods are lacking affordable, convenient, and accessible options for transportation."
The general sentiment that was shared during the press conference was not that one deal was better than the other or that Lyft was the wrong company to operate the Divvy Bike program, it was more so that both investments can coexist in Chicago to benefit all residents.
The deal with Lyft to operate the Divvy Bikes leaves a lot of community investment potential on the table, according to Jones.
A spokesperson from Divvy was not available to comment on this matter by the Citizen's deadline.
"The biggest thing is the amount of potential that is being left on the table by not accepting any other bids. Particularly the JUMP/Uber deal that is offering a $450 million investment right away to the south and west sides. For me, it seems like they are just ignoring something that could help stimulate our economies right away," said Jones. "A larger more equitable proposal is out there so from my standpoint I'm wondering why the city won't just take both. We want both investments in our communities."
Jones said that the most disheartening thing about this whole deal is that people of color are "seen as offensive" for requesting the same options and opportunities for their communities that can be seen in other parts of the city.
"Communities on the West and South sides are the most underserved when it comes to affordable and convenient public transportation options, making that first and last mile of travel even more challenging," said Jones. "We deserve the honor and the dignity of choice and that's why this is so important."