Major Athletic Brand Partners With South Side Business To Talk About Probation Reform
4/3/2019, noon | Updated on 4/3/2019, noon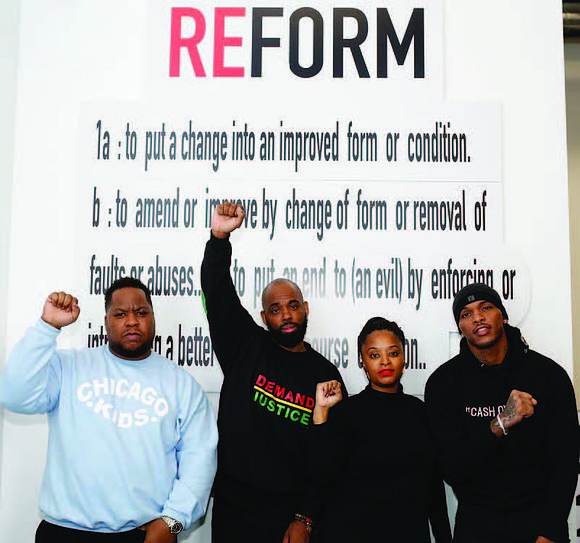 Major Athletic Brand Partners With South Side Business To Talk About Probation Reform
BY KATHERINE NEWMAN
Global sportswear company, Puma, recently released the Clyde Court #Reform sneakers which are more than just a basketball shoe, they are part of a movement. The new sneakers made their debut in Chicago at The Alpha Space, 2014 S. Michigan Ave., where Puma was able to collaborate with Dave Jeff, owner and founder of Chicago's own PHLI brand, to host a Forum on Probation and Parole Reform.
Puma has committed to donating 100 percent of the proceeds from the sale of the Clyde Court #Reform sneakers to the Reform Alliance which is a nonprofit organization that is committed to reforming the United States criminal justice system.
The purpose of the Reform Alliance is to drastically reduce the number of people who are cycling through the criminal justice system by focusing on reforming probation and parole procedures.
The Reform Alliance is co-chaired by Meek Mill, a well-known rapper who has become a public face for the reform movement after being arrested in 2007 and sentenced to 11 to 23 months in prison with eight years of probation which was then extended through 2023 because of probation violations. In 2017, Meek Mill was sentenced to serve an additional two to four years in prison due to a technical probation violation despite never having been convicted of a crime since his initial arrest in 2007, according to the Reform Alliance website.
"The event was initially about the drop of the Clyde Court #Reform shoe, both online and in store, that weekend. When Puma brought the shoe to me I saw that the message behind #Reform was just so big and I wanted to speak to that because I'm familiar with it and I know people who have gone through the probation system so I know that reform itself is so important," said Dave Jeff, host of the Forum on Probation and Parole Reform.
In addition to Jeff's voice, Demetrius Nash, a civic activist, Ayesha Jaco, co-founder of M.U.R.A.L. and senior program director at West Side United, and 600 Breezy, a Chicago-based hip-hop artist, all shared their perspective and ideas for probation and parole reform during the panel discussion that took place at the event.
"I wanted to have an open discussion about change and prison reform and about what's happening in our community," said Jeff. "I've had stores in Hyde Park for the last 15 years or so and because of my platform, now that I'm older, I have a voice and can talk to people about changing how we look at things and deal with problems in our community."
There are currently about 6.6 million people in the United State's criminal justice system and 4.5 million of those people are on probation or parole, according to the Bureau of Justice Statistics.
To learn more about the Reform Alliance visit www.reformalliance.com.