CITY COLLEGES OF CHICAGO UNVEILS NEW TRANSPORTATION, DISTRIBUTION, AND LOGISTICS CENTER
4/3/2019, noon | Updated on 4/3/2019, noon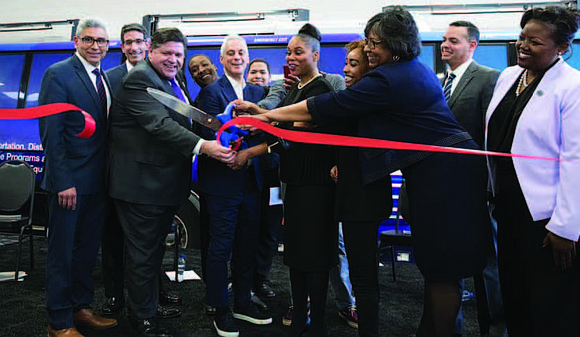 City Colleges of Chicago Unveils New Transportation, Distribution, and Logistics Center
BY KATHERINE NEWMAN
A ribbon cutting ceremony was recently held at Olive-Harvey College, 10001 S. Woodlawn Ave., to celebrate the completion of the school's new Transportation, Distribution, and Logistics (TDL) Center. The facility will prepare students for the many TDL jobs and careers that are expected to come to Chicago and the surrounding area over the next 10 years.
The new TDL Center provides an opportunity for hands-on distribution training in the state-of-the-art central warehouse where students will be managing the distribution of supplies to all seven City Colleges' campuses and five satellite locations across the city.
Students will also have the opportunity to train on cutting-edge logistics software that can be used to track packages and maintain an updated product inventory.
Lastly, the TDL Center is home to several automotive and diesel engine laboratories and vehicle bays with a variety of automotive technology programs for students who are interested in becoming mechanics or technicians.
"This is absolutely exciting because this is a one-of-a-kind facility located on the southeast side of Chicago which is an area that, for a number of years, has been kind of forgotten about and so our students are now afforded an opportunity to have a quality, high-tech, and high class education," said Kimberly Hollingsworth, interim president of Olive-Harvey College.
Construction first began on this project in 2013 but was halted for several years due to the states budget crisis that began in the summer of 2015 and lasted for just over two years.
"For a couple of years, I didn't think this was going to happen. I didn't think this building would ever see the light of day," said Michelle Harris, alderman of the 8th Ward. "Then the Mayor came in and rescued the day like he always does and this TDL Center is going to have a fantastic impact on any student that walks in the door."
Thanks to the TDL Center, Olive-Harvey College and its graduates will now be known for their top-of-the-line training in the areas of transportation, distribution, and logistics, which will encourage new employers to partner with the school and form solid pipelines to employment for graduates.
"When I started, everything was ancient and now everything is modernized," said Suzzette Anderson, an Olive-Harvey College student pursuing a degree in logistics.
"After getting my degree, I want to come back and do the CDL certification and drive in the simulation first to get real-life experience before going out on the road which is going to be awesome.
This building is really needed and it's fantastic." Olive-Harvey College is part of the City Colleges of Chicago network which includes seven community colleges in the City of Chicago. In 2010, City Colleges
of Chicago launched a reform initiative to make sure students received adequate instruction and support to meet their life goals, according to information from the City Colleges of Chicago website.