AFTER DECADES OF WRITING AND RECITING POETRY, BABA GRIOT RECEIVES LIVING LEGEND AWARD
9/26/2018, noon | Updated on 9/26/2018, noon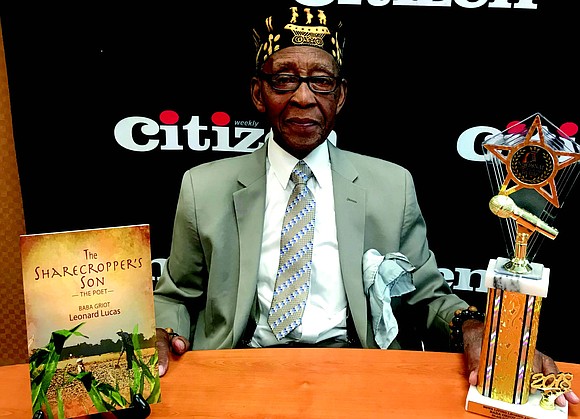 After Decades Of Writing And Reciting Poetry, Baba Griot Receives Living Legend Award
BY KATHERINE NEWMAN
Leonard Lucas, better known by his stage name Baba Griot, was recently honored at the second annual National Spoken Word Awards with the 2018 Living Legend Award. Baba Griot was honored for his five decades of writing and reciting poetry along with mentoring young poets.
The National Spoke Word Awards (NSWA) was founded in 2017 by De'Andre Hawthorne, also known as award-winning spoken word poet Blaq Ice. The awards were created to honor American Spoken Word Artists and those international Spoken Word artists who have made an impact in the United States. Prior to this years NSWA, Hawthorne reached out to Baba Griot to tell him that he was creating the Living Legend Award specifically to honor him.
"Don't wait until something unfortunate happens to show somebody how much you love them, how much you adore them, and how much they meant to you. Do it while they are here and in the now," said Hawthorne at the NSWA as he presented the Living Legend Award to Baba Griot.
During his acceptance speech, Baba Griot thanked Hawthorne for honoring him in such a way and went on to tell stories about performing poetry with legends like Dr. Maragaret Burroughs, Gwendolyn Brooks, and Sam Greenlee.
"I've been around for a long time and I have performed with some of the most legendary poets who are now deceased and Blaq Ice wanted to do something for me and wanted everyone to know about me," said Baba Griot. "It made me feel so honored, after all these years."
Baba Griot grew up in the south and came to Chicago in 1958. It was here that he got his start in poetry.
"I met Dr. Margaret Burroughs and Gwendolyn Brooks in Chicago and they used to invite me to recite poetry with them when they would go and perform at different grammar schools and high schools in the city. I never will forget that they said 'you are a performing artist' and I thought they were performing artists too but I had this rhythm and I dramatized everything I did and memorized my poems so when I performed,I didn't have to read off the paper," said Baba Griot.
Over the last 50 years, Baba Griot has learned a lot, performed with many legendary poets, and written an endless amount of poetry. He said that his purpose for writing is to give the true history of African People in Africa, America, and the Diaspora.
"Poetry is a composite of all other subjects, I'm universal. Poetry teaches you how to write analytically and critically and to be able to see the world as a universal group of people. Every country has poets and they are the most unique people in the world," said Baba Griot.
On the second and fourth Friday of every month, Baba Griot hosts an open mic night at Mather's Cafe, 33 E. 83rd St.