LAGOS Unveils First Fine Jewelry Bracelet Designed For The Apple Watch®
9/5/2018, noon | Updated on 9/5/2018, noon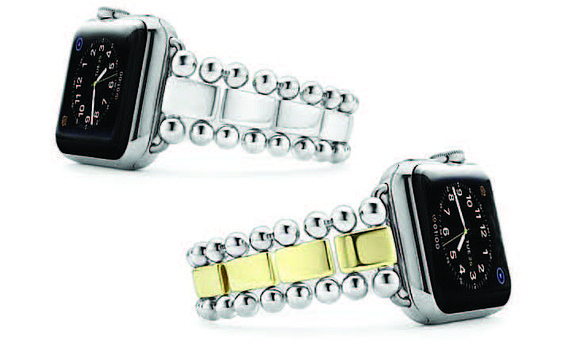 LAGOS Unveils First Fine Jewelry Bracelet Designed For The Apple Watch®
LAGOS, the fine jewelry brand, has announced a 60-day exclusive with luxury retailer Bloomingdale's to launch an innovative collection of sterling silver, 18K gold, and diamond bracelets made for the Apple Watch®. Distribution will broaden incrementally after November 1.
Known for its signature Caviar beaded designs, LAGOS introduces four distinct, luxe bracelets that easily enhance the Apple Watch® and help transition the sporty look to a piece of fine jewelry.
Unisex styles are available in sterling silver, two-tone featuring sterling silver and 18K gold, sterling silver with four diamond links and sterling silver with all diamond links.
"I'm a big fan of the Apple Watch® and love the functionality. It is perfectly designed for the sporty lifestyle but something was missing – there was no fine jewelry element to it," said LAGOS Founder and Creative Director Steven Lagos. "I really wanted to create a bracelet that would transform it from a casual watch to a jewelry watch."
Smart Caviar is designed with the same fine craftsmanship that defines LAGOS jewelry and the ease of wear that makes it perfect for every day. Smart Caviar flawlessly layers with other LAGOS designs and is simple to style. The bracelets are engineered to slip easily in and out of the Apple Watch® head and come with a sizing tool and extra links to ensure a comfortable fit.
"Bloomingdale's is thrilled to launch Smart Caviar with LAGOS," said Erica Russo, Bloomingdale's Vice President and Fashion Director for Accessories and Beauty. "This is the first fine jewelry option we have offered for smartwatches and we love the way luxury meets modern functionality. From sterling silver to gold and diamonds, there is truly something for everyone."
The collection marries technology with fine jewelry to offer an elegant option for Apple Watch® wearers to express their personal style. It's a special piece for the LAGOS collector and also the next generation LAGOS customer. The collection is available now in all Bloomingdale's stores nationwide and on Bloomingdales.com and is being supported by a 360° marketing program.
Steven Lagos was one of the first to create the "Designer Fine Jewelry" category when he launched LAGOS' first Caviar collection more than 30 years ago. Since its inception, the brand has created bold jewelry rooted in integrity, intelligence and innovation. These defining values are the foundation for Smart Caviar and are still present in every collection designed today.
Smart Caviar is not approved, endorsed or affiliated with Apple, Inc. Watch sold separately.