The New Shine 'n Jam® Black Castor and Flaxseed Oil Styler is Now Available in Variety Wholesale and Dollar General Stores Nationwide
10/31/2018, noon | Updated on 10/31/2018, noon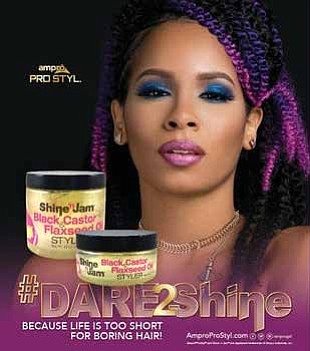 The New Shine 'n Jam® Black Castor and Flaxseed Oil Styler is Now Available in Variety Wholesale and Dollar General Stores Nationwide
Ampro Industries recently announced that their DIY-inspired Shine 'n Jam® Black Castor & Flaxseed Oil Styler is now available at Variety Wholesale
and select Dollar General stores nationwide.
The roll out of the product has resulted in huge consumer demand that is greatly benefitting its retail partners. This release also marks another
huge success for the Shine 'n Jam® brand that boasts such winning products as the Shine 'n Jam Extra Hold Conditioning Gel, Shine 'n Jam Regular Hold Conditioning Gel, Shine 'n Jam Silk Edges, and Shine 'n Jam Shea Edges – which are all fan favorites of professional braiders.
Designed to help consumers with textured hair achieve a variety of trending hairstyles, the Shine 'n Jam® Black Castor & Flaxseed Oil Styler is light weight, gives great slip, and provides a firm hold while leaving the hair feeling soft to the touch – like there isn't any gel on it at all, according to a press release. Targeted at the consumer who is looking for a vegan gel formula that gives hair both shine and manageability, the Shine 'n Jam Black Castor & Flaxseed Oil Styler is the perfect product because it is also easy on the pocketbook. An 8 oz jar is available in retail for under $3.
"In a growing niche market where prices seem to ravage the purse strings, this product is amazing. It conditions the hair while easing frizz and leaving the hair soft and shiny.
There's a huge cost savings in there and the consumer gets an extremely well formulated product." says Camille Wright, Vice President of Marketing and Communications.
In October 2017, Ampro Industries, Inc., launched the product with a nationwide campaign - #Dare2Shine that features two young ladies rocking daring, care free, textured hair looks. Consumers have been charmed by the ad, taking to social media to upload looks they've created using the styler which
also give a laid back vibe.
Consumers report being happy that the ingredients in the styler are friendly and good for all hair types.