Fossil Group and CITIZEN Partner to Grow the Global Hybrid Smartwatch Market
10/24/2018, noon | Updated on 10/24/2018, noon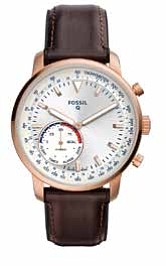 Fossil Group and CITIZEN Partner to Grow the Global Hybrid Smartwatch Market
Fossil Group (NASDAQ: FOSL) and CITIZEN Watch Company, Ltd. recently announced that the companies have entered into a global strategic technology licensing partnership designed to expand the worldwide reach and scale of hybrid smartwatches.
The partnership leverages CITIZEN's globally-respected watch movement expertise while providing CITIZEN access to Fossil Group's hybrid smartwatch technology. Specifically, as part of the agreement:
CITIZEN will manufacture hybrid smartwatch movements incorporating Fossil Group's technology. CITIZEN will sell hybrid smartwatch movements and complete watches to the broader watch industry.
CITIZEN and Fossil Group will collaborate in bringing future innovation to the smartwatch category.
Since 2016, the growing hybrid smartwatch category has been defined by Fossil Group and its portfolio of watch brands as timepieces that retain the classic aesthetic of analog watches, but also offer discreet notification and tracking capabilities without the need for charging. Hybrid smartwatches are projected to make up a significant percentage of smartwatch shipments by 2022, according to Juniper Research.
CITIZEN has worked in the technology category for many years and, in 2006, it introduced the world's first Bluetooth-enabled watch. In 2012, it revealed the first Bluetooth-enabled, solar-powered watch, the Eco-Drive, which does not require the battery to be replaced. In 2016, Citizen globally expanded its distribution and added new SKUs to its portfolio. CITIZEN will launch the world's smallest and thinnest Eco-Drive Bluetooth watch in 2018. Citizen also has a dedicated analog watch which uses solar-powered hands.
"Given the size and growth of the smartwatch market, CITIZEN is going seriously into the smartwatch market," said Mr. Tokura, president and chief executive officer of CITIZEN. "It is with strong determination that we trigger this partnership and enter this category. We, CITIZEN and Fossil Group, will maximize our combined strengths to become leading companies in the smartwatch category."
"Our partnership with CITIZEN, the world's largest watch and movement manufacturer, will enable us to broaden and accelerate the awareness and adoption of hybrid smartwatches," said Kosta Kartsotis, chief executive officer at Fossil Group. "This transaction is the result of our technology investments and demonstrates the capabilities we've developed in the wearables category and the larger watch industry.
Together with CITIZEN, we'll leverage the technology to drive scale in the hybrid smartwatch market that will bring innovative and compelling new products to the watch market and improve our product costs."