SOUTH SIDE COMMUNITY SERVICES ORGANIZATION PREPARES FOR CHRISTMAS TREE GIVEAWAY
11/28/2018, noon | Updated on 11/28/2018, noon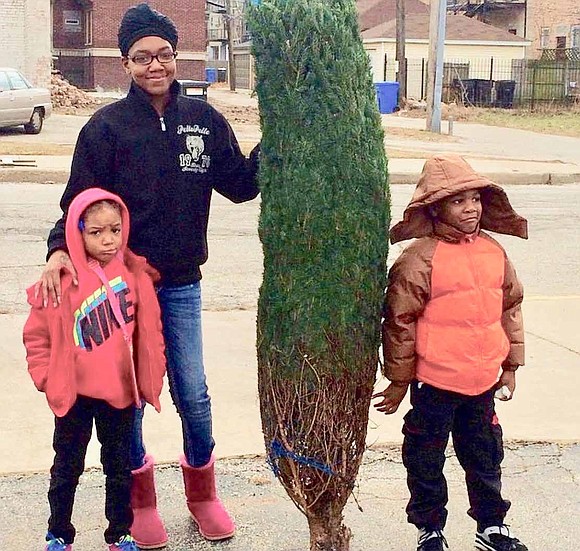 South Side Community Services Organization Prepares For Christmas Tree Giveaway
BY KATHERINE NEWMAN
Centers for New Horizons Inc. is preparing for their third annual Christmas Tree Giveaway for community residents. On Saturday, Dec. 1, from noon to 2 p.m., the nonprofit organization will be giving away 100 Christmas trees and providing an opportunity for children to meet and take photos with Santa Claus at their offices, 4150 S. King Dr., in Bronzeville.
Centers for New Horizons, Inc. is a nonprofit organization founded in 1971
that helps children, youth, and families to become self-reliant. The organization provides programs throughout Chicago that reach more than 1,000 individuals daily and include workforce development, early childcare
education, senior care and protection, youth development, counseling, and more depending on the needs of the community and their clients. The agency exists to serve and partner with community residents in their efforts to bring about positive changes, according to a press release announcing the
Christmas Tree Give Away.
"We deal with a lot of individuals that are operating below the poverty level and are having a lot of financial challenges so anytime that we can step in and provide them with a free resource that can help them operate better as a family unit then we like to do that," said Christa Hamilton, executive director of Centers for New Horizons, Inc.
"Many of our families don't have the resources to get a Christmas tree so we are happy to be able to give them a Christmas tree and a stand."
Christmas trees, whether they are real or artificial, can be expensive which is why the Centers for New Horizons Inc. has been hosting their Christmas Tree Give Away for three years now. They know that having a Christmas tree is an important part of the holiday season but isn't always in the budget for their clients.
"Trees are pretty expensive, the real ones and the fake ones, so when we were given an opportunity to give away some trees, we knew it was our responsibility to do it," said Hamilton. "We have a full-family scope of programs so we service a lot of families and we are helping them to strengthen their family units and we thought being able to provide them with a Christmas tree was a good way to get ready for the holidays for many people that aren't able to afford them."
This year, the event will also feature a special guest appearance from Santa Clause. Families will be able to take professional photos with Santa for $10 and thanks to generous donations from corporate sponsors and individuals, many families will be able to get their photos taken for free.
"Families can expect to grab a tree, take a picture with Santa, and we will have resources there for them about our programs and some of our partner's programs. We will have hot cocoa and usually, families spend about an hour here between pictures, grabbing a tree, and looking at our resources," said Hamilton.
To learn more or request to be a volunteer at the event call (773) 373-5700.