World's fi rst AI-powered motion tracking fitness app turns your iPhone into a personal trainer
7/11/2018, noon | Updated on 7/11/2018, noon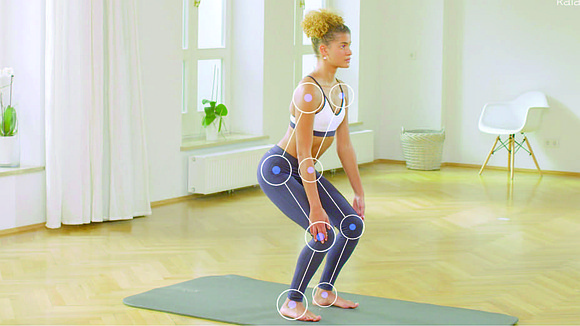 World's first AI-powered motion tracking fitness app turns your iPhone
into a personal trainer
A new fitness app has launched which uses the world's first AI-
powered motion tracking technology to transform your iPhone into a virtual personal trainer who off ers real-time feedback and helps you achieve the perfect squat.
Free to download, the Perfect Squat Challenge app has been developed by leading digital therapy company Kaia Health in conjunction with physiotherapists and sport scientists to define a squat that a wide population can achieve.
Once the app is opened, users are greeted by Kaia, a virtual personal trainer, who guides them through the exercises. Users place their iPhone upright on a table or against a wall then step back approximately 7 feet until their body becomes visible on the phone's screen. Th e app then tracks 16 key points on the body using the phone's camera stream. Th is contrasts your observed pose with the 'ideal' predefined pose, and compares metrics including the relative positions of limbs and joints, and the angles between them.
During the exercise Kaia offers actionable, real-time audio feedback and video instructions which encourage users to achieve as many correct squats as possible, thereby offering the skills of a personal trainer at your fingertips in the comfort of your home. Th e app currently focuses on perfecting squats but the patent pending technology that underpins it is set to transform the world of fitness and physiotherapy by allowing personal trainers, sports scientists and physiotherapists to define an infinite number of correct exercises.
Later this year, Kaia Health will integrate this technology into its various medical device apps including their 'Kaia Back Pain Relief at Home' app, a clinically-proven therapy app for nonspecific back pain, and 'Kaia COPD Therapy' app which helps to relieve the symptoms of Chronic Obstructive Pulmonary Disease. Th e technology will help to treat patients, monitor trends in the progression of a disease or condition, and personalise therapy - and this will create best-in-
class digital multimodal therapy for patients.
Widely considered a vital exercise for increasing the strength and size of the legs as well as developing core strength, the squat is a compound, full body exercise that trains primarily the muscles of the thighs, hips and buttocks, quadriceps femoris muscle and hamstrings - as well as strengthening the bones, ligaments and insertion of the tendons throughout the lower body.
If you prefer training with others the Perfect Squat Challenge online community will help to motivate you. Th e app encourages users to compete and challenge friends on social media by sharing a personalised link featuring the number of correct repetitions. Th is allows users to have their high score feature in a leaderboard during exercise for added motivation.
Maximilian Strobel, Head of Kaia Health's AI Lab says: "Breakthroughs in AI-powered motion tracking and correction technology means that everyone now has access to a virtual personal trainer and physiotherapist on their iPhone - and can perfect exercises such as the squat. In the future, this technology will integrate within our medical device apps for diseases and conditions such as back pain creating a scalable, cost-effective therapeutic tool. Th is democratises access to high- quality, bespoke fitness, rehabilitation and physiotherapy - and could reduce the burden on health services." The Perfect Squat Challenge app is free and available for download on every iPad and iPhone released aft er 2015. Visit www.kaia-health.
com/Perfect Squat Challenge. #PerfectSquatChallenge to download the app.