It's Never Too Late For a Career Change
2/28/2018, noon | Updated on 2/28/2018, noon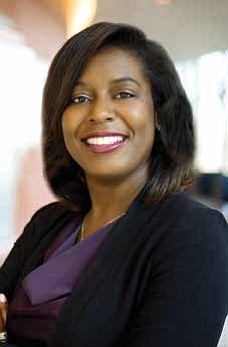 It's Never Too Late For a Career Change
By: Katherine Newman
Jacinta Staples is a graduate of the University of Illinois Urbana Champaign. She studied Kinesiology, the study of human movement, and went on to work for the Chicago Bears for eight seasons with her last position being marketing for the football team. After those eight seasons, she decided to build on her experiences and go back to school for nursing.
I never felt like marketing wasn't right for me. I still enjoy marketing and I find myself using those skills in every position I have obtained. It laid that foundation for my next step. I really wanted to give to the community and help people more, that's what I was looking to do and that's my passion," said Staples.
Her transition began when she became involved in the health professions ministry at her church. She was running a blood drive that was part of a program at Lurie Children's Hospital. All of the blood that was donated was directed to the sickle cell patients at Lurie.
They had just started this program where the blood was directed to the sickle cell patients there. They were so impressed by the number of units in the community that they wanted to meet the person that was leading these blood drives, which was me," said Staples.
Lurie Children's Hospital offered her a position to run the program because she was doing so well in the community and had a background in marketing.
Staples said she had already been thinking about moving into the healthcare field because she wanted to learn more about the human body.
I used those marketing skills to do more community outreach with the sickle cell blood donor program so it was just the next level and the next step in my career, not so much that marketing wasn't right for me," said Staples.
Going back to school was easy for Staples. She enrolled in the accelerated Bachelor of Science in Nursing (BSN) program at Resurrection University.
This is the only evening and weekend BSN program in Chicagoland, according to Resurrection University.
"The type of program that it is, made it really easy. I joined in the evening and weekend program so a lot of the other people in that program had daytime jobs like myself," said Staples.
"We had other lives, we had things that we were doing during the day and made that time to go and take our classes in the evening and did a lot of our clinical work on the weekends.
The program was really designed for people like me which made it a lot easier and I still have a good core of friends from that group." To anyone that might be thinking about a career change, "go for it" said Staples.
"If you want to change your career path, it is never too late. You can always do what your heart desires. Whatever your passion is if you felt like it was one thing in the past and it's something different now, that's fine. A lot of that comes with the experiences that you go through in life anyway and with those different experiences you're finding new things and new
interests," said Staples.
If you want to change your career path, look at the skills you already have and see how they can translate into your interests and the career you want to go into to make it a smoother transition, according to Staples.