Local Chef Launches Grab-And-Go Vegan Burrito In 187 Jewel-Osco Stores
8/22/2018, noon | Updated on 8/22/2018, noon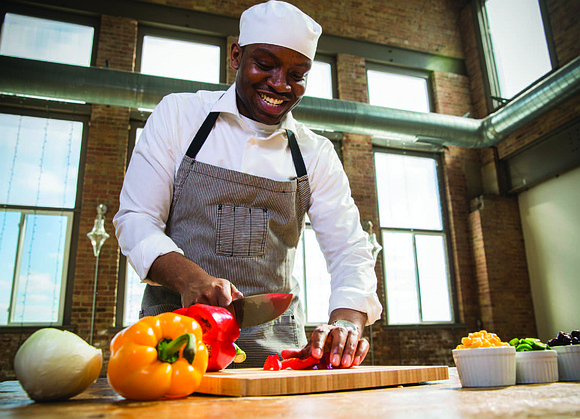 Local Chef Launches Grab-And-Go Vegan Burrito In 187 Jewel-Osco Stores
BY KATHERINE NEWMAN
The Fiesta Wrap from Moon Meals, Inc. is a vegan burrito that recently became available in the grab-and-go section of 187 Jewel-Osco stores in Illinois, Indiana, and Iowa. Moon Meals was founded by LaForce Baker who created the Fiesta Wrap to be a fast, affordable, and healthy food option for people.
Over the last four years, Moon Meals has perfected their production of plant-based meals and their ingredients. Most of their recipes use vegan meats, cheeses, and sauces and along with local and organic products.
"Moon Meals is a producer of plant-based meals and their ingredients. Our flagship product is our Fiesta Wrap which essentially is like a healthy burrito. It's really tasty, it's vegan, and we make our own vegan meat, cheeses, and sauces that go into our vegan meals and they are really easy to grab and go right off the shelves," said Baker.
Even though the Fiesta Wrap is vegan, Baker said it will still satisfy the customers craving for a meaty and cheesy burrito in a healthier way.
"The Fiesta Wrap is vegan, so no meat eggs or dairy, but it still has a meaty cheesy slightly spicy taste. We make our own vegan chorizo or taco meat that goes into the Fiesta Wrap and will remind you of a ground beef. We make our own vegan nacho cheese sauce which is really reminiscent of that very creamy nacho cheese sauce that you get from a movie theater but we make it in a healthier way and we color the nacho cheese sauce with turmeric instead of yellow number 5 and then we have black beans, sweet corn, brown rice, and some spinach in a green spinach wrap," said Baker.
Growing up in an area that didn't have many healthy food options, Baker became slightly overweight as a young person. His motivation to lose weight also became his inspiration to teach himself how to prepare delicious healthy food.
"For me, I grew up on the far south side of Chicago in Washington Heights and where I grew up it was pretty much a food swamp, I'm not gonna call it a food desert because there were food options but they were all fast food like McDonald's, Popeyes, and J&J's Fish. Growing up in an environment like that it's really easy for someone to become overweight and that was me," said Baker.
Today, Baker is proud to be able to provide food options and recipes for people who are interested in eating fast, healthy food. He said that having the fiesta Wrap launched in 187 Jewel-Osco stores feels like a dream come true.
"I'm just excited that people get to experience what I get to experience on a day-to-day basis and not have to suffer with an unhealthy option just because there is nothing readily available when you don't have a lot of time or a lot of money," said Baker.