A CUSTOM FRAME IS WHAT GREAT ARTWORK DEMANDS, ACCORDING TO THE WOODSHOP
8/15/2018, noon | Updated on 8/15/2018, noon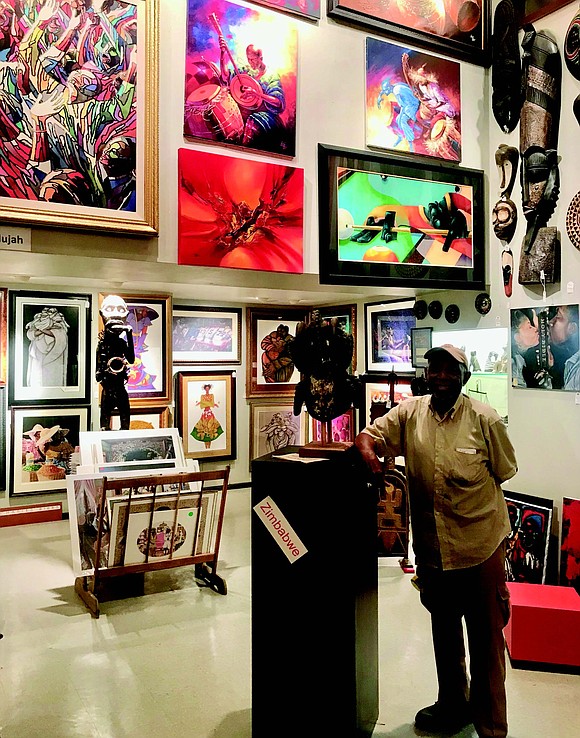 A Custom Frame is What Great Artwork Demands, According to The Woodshop
BY KATHERINE NEWMAN
The Woodshop, located on 411 E. 75th St., is an African American owned business that has been operating in the Chatham neighborhood for decades. The business has three distinct yet intertwined specialties that include custom framing, custom cabinet making, and a well-established art gallery that showcases African and African American art.
"I was just filling a void when I first opened up. There was very little African or African American art available to the community, the community meaning Chicago and the United States. When I first started selling art every major city in the country didn't have a serious brick and mortar art gallery displaying and selling African and African American Art," said Lawrence D'Antignac, owner of The Woodshop.
At The Woodshop, they believe that African American artists are the unacknowledged recorders of Black history and D'Antignac has is committed to showcasing the talented artists that are preserving that history through their work. He is living up to his commitment in the sprawling art gallery at The Woodshop but all by providing quality custom framing to the black community for their artwork.
"A custom-made frame is what the art asks for. If you pay three of four hundred dollars for a piece of art and go to one of these other fast frame shops to get a frame, you don't get what you should," said D'Antignac. "If you want what the art is demanding, you have to go to a custom frame shop because it's what your art requests and that's why I'm in this business. I tell people what their art needs and what they should get, the other fast frame shops don't tell people."
Even though D'Antignac has been in business for decades, he has recently fallen on hard times and attributes that to a few specific changes that have negatively affected his business. One thing he has noticed is that the Chatham community has changed and many of the people who used to support his business and were able to afford custom framing and exclusive African artwork, are no longer living in the area.
The other thing that has been hurting The Woodshop is that corporate retailers have realized the value of African and African American art and several major craft stores now offer custom framing.
"My competition now is the major stores that have recognized the value of African American and African art so they are piggybacking and doing some very bad things with art. Also, the major companies that are doing framing and have no competition can do and say whatever they want so they all advertise 50% off framing but it's still higher than my price and they are selling an inferior product," said D'Antignac.
The Woodshop is truly a hidden gem in the Chatham community and one of few places in Chicago where people can go to experience original African and African American art without having to visit a museum.