Reception Held For Rebranding of ISF Bank
8/8/2018, noon | Updated on 8/8/2018, noon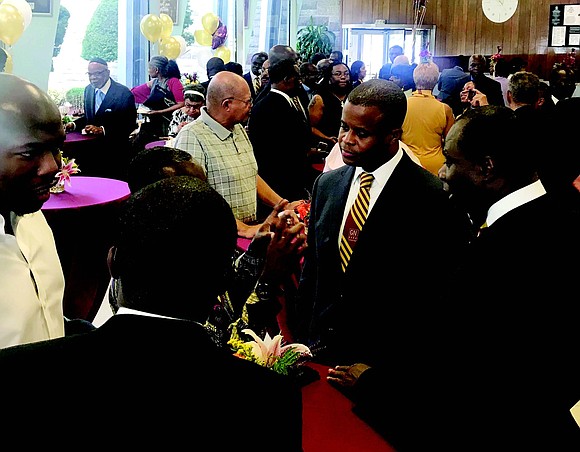 Reception Held For Rebranding of ISF Bank
BY KATHERINE NEWMAN
The African American owned Illinois Service Federal Savings and Loan Association (ISF Bank) is a long time stakeholder in Chicago's south side community and a recent reception in their main office, 4619 S. King Dr., celebrated the official rebranding of the financial institution as GN Bank.
ISF Bank was originally started by 13 black men and began serving Chicago's South Side communities in 1934 by offering checking, savings, and consumer, small business, and commercial real estate loans. For many people living on the South Side, ISF Bank was their catalyst to homeownership and wealth building over the years.
In 2016, ISF Bank was acquired by the Groupe Nduom, a family-owned multinational business and social enterprise group that operates entities in the tourism, investment advisory and management, financial services, technology, media, management consulting, cross-border trade, and sports industries.
The Groupe Nduom organization is led by members of the Ghanian American Nduom family and in order to better align the newly acquired ISF Bank with their existing international banking operations, they made the decision to change the name of ISF Bank to GN Bank. The GN Bank network already has over 330 branches worldwide.
"We have a group of companies that over the years has developed and had this weight. Now the weight of those companies, which we are making sure everybody understands, is being put behind this bank that we are standing in today," said Dr. Papa Kwesi Nduom, president of Groupe Nduom and chairman of ISF Bank.
Groupe Nduom's acquisition and rebranding of ISF Bank has guaranteed that the financial institution will continue to operate for years to come and even more than that, it has stabilized the only black-owned bank left in the state of Illinois and guaranteed that it will remain black-owned for the foreseeable future.
"We promise that we will serve our customers with enthusiasm, innovation, and discipline and for our company, we serve with loyalty. We acquired this bank a couple of years ago and we established a three year turn around plan and I am happy to tell you that as of the end of last year we achieved that goal and this bank is now a profitable bank. And who do we have to thank for it? Our customers," said Nduom.
Over the years, ISF Bank faced its fair share of challenges, including staying afloat during the 2008 finical crisis. Like Nduom, the CEO of ISF Bank, Robert Klemp, also attributes the bank's survival to support from the community.
"A few years ago we faced numerous challenges but we had a commitment to serve our community and give them the very best in banking services. Because of the confidence that we had from our community and our customers and people like the State Treasurer, we are stronger now," said Klemp.
You can visit the newly rebranded GN Bank at their Main Office, 4619 S Martin Luther King Jr. Dr., or at the Chatham Office, 8700 S Martin Luther King Jr. Dr.