Black Film Festival Hosts Free Screenings At Garfield Park Conservatory
4/4/2018, noon | Updated on 4/4/2018, 6 a.m.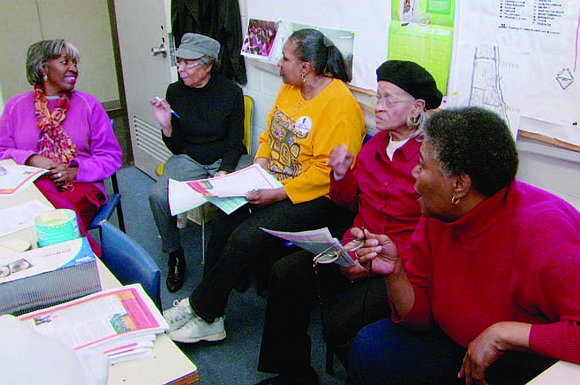 Black Film Festival Hosts Free Screenings At Garfield Park Conservatory
BY: KATHERINE NEWMAN
The Best of Black Harvest Film Festival West has returned to the Garfield Park Conservatory this year with a screening of Blueprint for Bronzeville, a film that chronicles the efforts of Housing Bronzeville as they attempted to bring affordable single-family homes to the neighborhood in 2009.
The screening is part of the Best of Black Harvest Film Festival West, a prequel to the Best of Black Harvest Film Festival happening in August, which gives audiences the opportunity to experience films made by emerging and established Black filmmakers, and to view films that tell the stories of the Black experience, according to the Gene Siskel Film Center website.
Blueprint for Bronzeville follows Housing Bronzeville, an activist group who at the time, was working to ensure a vibrant, politically empowered, and economically diverse Bronzeville community by fighting for affordable home ownership through the establishment of a Bronzeville Housing Trust Fund, according to the Housing Bronzeville website.
The film was produced by Columbia College of Chicago film students Arlen Parsa and Tristan Hanson. Since filming the documentary in 2009 both have graduated and gone on to work on new film projects. The two film students were not Chicago natives and were looking to make a documentary that would answer their questions about segregation and gentrification in Chicago.
"Bronzeville is a really interesting neighborhood from a gentrification standpoint. We started looking at different community groups, we knew there was the Olympics bid going on and we thought there would possibly be some Olympics related gentrification or displacement. We basically starting scoping out all these different community groups," said Parsa.
Housing Bronzeville stood out to the producers because they were not taking any funding from the city and they were fearless, according to Parsa.
"They were ready to take truth to power and the character of the group was really interesting as well. The leadership of the group was made up largely of African American women and that was really interesting and different than a lot of other groups," said Parsa.
While the project was filmed almost ten years ago, the content is still relevant today, according to Parsa.
"Here we are several years after the bulk of this film has been shot and you can go back to the same empty lots and they are in the exact same condition. We have had two mayors over this period of time and neither one of them has been able to move things forward in a really substantial way when it comes to affordable home ownership in Bronzeville. I think it is unfortunately still pretty relevant," said Parsa.
The Garfield Park Conservatory along with BBF Family services will be hosting film screenings for the Best of Black Harvest Film Festival West now through May 16, for information visit www.siskelfilmcenter.org/best-of-black-harvest-west-2018.
To learn more about Blueprint of Bronzeville and for information on the upcoming DVD release, visit www.blueprintforbronzeville.com.