Ex-Bear Chris Zorich Encourages Students as Suburban College Administrator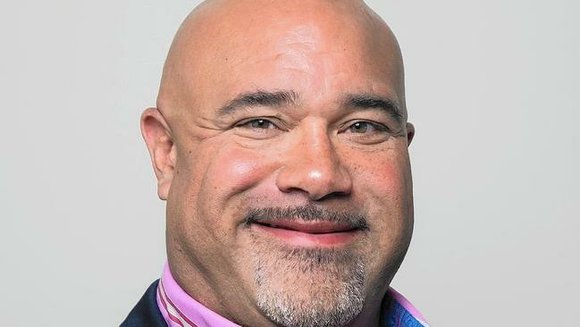 When Chris Zorich was a freshman at Notre Dame University, he struggled in the classroom.
In fact, he said he was on academic probation.
Eventually, Zorich graduated, starred in the NFL for the Chicago Bears and later got a law degree from Notre Dame.
Today, Zorich said he uses stories of his past to encourage other African-American males as the athletic director at Prairie State College in south suburban Chicago Heights, Ill.
"I was able to turn my life around," said Zorich, 46, a Chicago Chatham neighborhood native. "I was able to [achieve]. People said if he can do it, I can do it."
In July, Zorich was named to the post at the community college at 202 S. Halsted St.
Zorich currently is the only ex-NFL player to serve as an athletic director at a college in Illinois. But he is one of dozens with similar backgrounds at colleges across the country.
Zorich is responsible for planning, administering and directing the college's intercollegiate athletics, intramural and recreation programs. He also helps provide private and corporate support the school's teams.
The former defensive tackle said he was able to "get across to the hiring committee that [he] could help because of the experiences he had."
Zorich, who attended Chicago Vocational High School on the city's South Side, said he had a tough childhood.
"I didn't have a lot of money and I came from a rough neighborhood," Zorich said.
Zorich said his mother, who was white, was mugged more than once in their South Side neighborhood.
Zorich was raised by his mother, Zora, who was disabled. Zorich and his mother had to rely on public assistance, he said.
He recalls sometimes they had to dig through garbage for food and eat sugar sandwiches.
He said he didn't have contact with his father, who was black.
"My mother did a lot to support me," Zorich said.
Zorich said he took extra classes, such as college prep courses at his high school to get into college because his school primarily was a vocational high school. He said when he recieved a scholarship to Notre Dame, he realized he had a great opportunity to help his mother.
But when he arrived at Notre Dame in South Bend, Ind., he struggled.
"I went from a good high school to a great college," Zorich said. "I had to work hard."
When Zorich was 21, tragedy struck. He found his mother dead in their Chicago home after playing in the Orange Bowl. She suffered a fatal heart attack.
"I saw her body lying in the hallway…," Zorich said. "My mother was everything I had."
Zorich, however, continued to excel in college.
He graduated in 1991 as one of the school's best ever defensive players, winning the Lombardi Award as a senior.
Zorich, eventually a College Football Hall of Fame inductee, played for the Bears from 1991-96 and his last season, 1997, with the Washington Redskins.
While playing for the Bears, he was known for handing out turkeys to needy families on Thanksgiving.
In 2013, he made headlines for tax problems. He was sentenced to three years of probation and 200 hours community service for failing to file federal income-tax returns. He also had to pay back nearly $350,000 in unaccounted funds donated to his charitable foundation.
"I made a mistake and I owned up to it," said Zorich about the tax problem.
At Prairie State, Zorich said he wants to meet personally with as many of the 125 athletes as he can as athletic director.
He already knows the golf team – he took over last month as the head coach after the previous one left the team.
He even drives the team bus to competitions.
Even though he wants to see a winning program, Zorich said he reminds the athletes that they are students.
"It's academics first. . .," Zorich said. "Playing athletics is a privilege. We want them to go on to four year schools. . . I came from a similar environment as many of them. I know what it takes to overcome all those issues. But it is important to stay with the goals you set."