Spike Lee, Pfleger Defend "Chiraq" Film and Call for Peace
Lee Edwards | 5/20/2015, 4:53 p.m.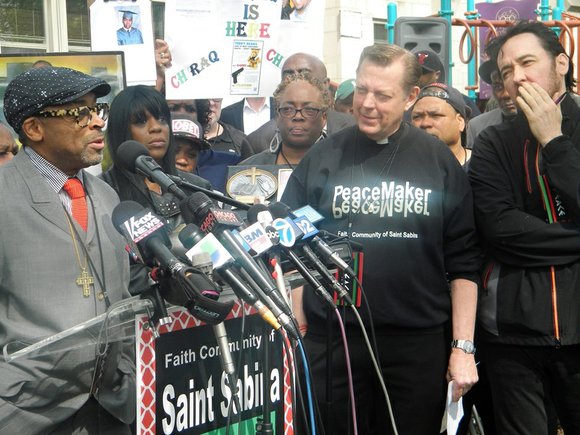 Academy Award nominated filmmaker, Spike Lee and Faith Community of St. Sabina Pastor, Father Michael Pfleger, were joined last week by community stakeholders in the courtyard of St. Sabina, 1210 W. 78th Pl in Chicago, for a press conference in support of the major motion picture, "Chiraq." The film underscores the gun violence plaguing Chicago and is under fire from elected officials and local residents because of its title which likens several of Chicago's neighborhoods to war zones in Iraq.

Lee routinely addresses controversial issues in his films such as interracial dating (Jungle Fever), college campus culture clashes (School Daze), post-Hurricane Katrina New Orleans, La. (when the damn levies broke) and post-Sept. 11, 2001 terrorist attacks New York City, NY. (25th Hour).

"A lot of things have been said about this film by people who know nothing about the film," said Lee. "We say what the narrative is, the filmmakers, the people doing it, not the people that's judging from afar."
Lee defended his artistic license to address the ills of the world and believes that early critics of the film will be "on the wrong side of history."
"Filmmakers, actors, they hold a mirror up to what is happening in the world and they do that with no fear," said Lee. "If you have fear, how are you going to tell the truth? We want to tell not just to Chicago, Ill., not just the United States of America but to the World why this film matters."
Father Pfleger, a longtime activist against gun violence, who was contacted by Lee for support of the film, cited statistics during the press conference, noting that since Jan. 2015 there have been approximately 780 shootings where 664 individuals have been shot and 116 killed in Chicago.
"We must face the reality of what is going on not just in Chicago but going on across America," said Pfleger. "We cannot hide from it, we cannot become immune to it, we cannot ignore it, [and] we cannot deny it. Violence is real in America. We must face reality; we must face the reality of guns in America where it's easier in so many neighborhoods to get a gun instead of a computer."
Pfleger, who called Lee one of the best directors in America, said that Lee casted actors from Chicago and hired Chicago workers for the film.

"I can't think of a greater person to face this reality than someone with the history and the body of work of Spike Lee," said Pfleger. "Nobody should be better able to face this reality than someone who has proven his consciousness, proven his professionalism and proven his willingness to be courageous with issues."
Chicago native and actor John Cusack who stars in "Chiraq," said that the controversy surrounding the film is manufactured by political agendas.
"[I am] 100% sure that the city of Chicago can withstand a film of conscience," said Cusack. "I love my city of Chicago and I would never do anything to hurt it. I am proud to stand with Father Pfleger, with Spike, and St. Sabina and we will try to do a really good job."

Ald. Will Burns (4th Ward), opposes the film's name, not its content, and said in an interview on WGN 720 following the press conference that he believes tax payers' dollars should not be used to support a film entitled "Chiraq".

Meanwhile, Englewood resident and small business owner Jasmine Giles, founder and operator of Fierce, Fancy and Fly Accessories by Jasmine, who lost her younger brother, Frederick James Giles, III to gun violence, supports the film.

"[The film Chiraq] means enlightenment to me to let people all over the world by letting people know what we are dealing with hands on in Chicago and I'm not opposed to it," said Giles. "People want to do something about it and speak on it and we're getting the exposure that we want."