Chicago Aldermen Debate Controversial 'Chiraq' Movie Title
7/29/2015, 4:11 p.m.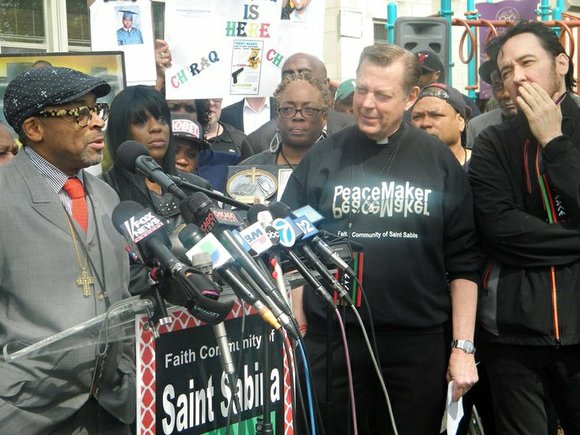 Filmmaker Spike Lee won't be getting a $3 million tax break for his new movie, "Chiraq," an upcoming feature film that was filmed in Chicago.
But it's not because opponents disliked the controversial title. Ill. Gov. Bruce Rauner froze all film tax credits as part of cuts tied to an impasse over the state's new fiscal budget.
That didn't stop the topic from coming up on Monday at the City Council's Finance Committee meeting however.
Ald. Will Burns (4th Ward) had previously introduced a resolution urging the state not to provide a tax credit to the movie's producers if it has "Chiraq" in its title.
Burns, is strongly opposed to the title, however he pulled back the ceremonial resolution during the Committee meeting.
Burns said he wanted citizens who haven't had a chance to weigh in on the Chiraq controversy to express their views.
The term Chiraq was coined a few years ago because of the city's gun violence.
Burns contends the term was made up by gangbangers.
"I have no issue with filmmakers wanting to make movies about the city of Chicago," Burns said. "What I do have issue with is using a title for a movie that offends many people on the South Side, makes it harder to bring economic development to those neighborhoods and to give some a tax subsidy to do it."
But the Rev. Michael Pfleger, pastor at St. Sabina Catholic Church on the city's South Side, who is a supporter of the movie, told council members he thought it was a waste of time to discuss the issue.
"I was really insulted and I felt that this whole conversation was an orchestrated distraction," Pfleger said after the meeting.
Pfleger pointed out that Chicago suffered another bloody weekend. He said there needed to be a hearing about the seven people fatally shot and 34 wounded.
Overall, there have been 234 deaths and 1,553 people wounded in the city so far this year because of gun violence, he said.
"We ought to be focused on the problem and not the distraction," Pfleger said.