Chicago State University Welcomes New Athletic Director
Lee Edwards | 8/27/2014, 4:47 p.m.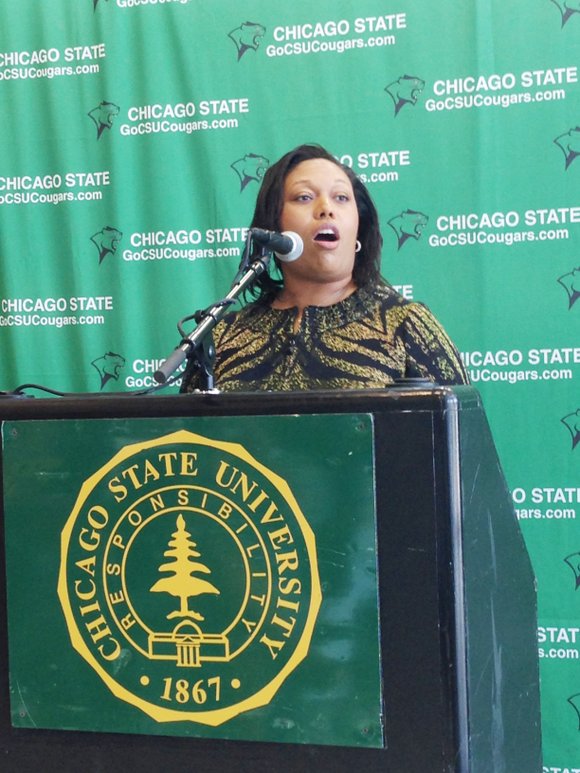 Officials at Chicago State University (CSU), 9501 S. King Dr., announced during a press conference last week, the hiring of the school's new athletic director, Dr. Denisha L. Hendricks, formerly of Kentucky State University, where she served in the same capacity.
"I'm very excited to welcome Dr. Hendricks to the Chicago State University family and I look forward to working directly with her as we continue to make the CSU athletics one of the top collegiate sports programs in all of Illinois," said CSU President, Dr. Wayne Watson.  "Dr. Hendricks is coming to us with a wealth of experience and that will be invaluable to the university in our shared goals of improvement and guiding our student athletes to success in the classroom and on their respective fields."
Watson, also acknowledged the contributions and accomplishments of the previous athletic director, Dan Schumacher, who parted ways with the university in May to become the University of Wisconsin-Eau Claire's athletic director.

"Chicago State University has already undergone a paradigm shift and we [will] continue to grow as a university each and every day," said the newly hired Dr. Hendricks. "CSU athletics proudly takes a leading role in this effort; athletics is a major component to the image of our university. To my new family, our journey is not over; there is still work to be done."
A native of Birmingham, Ala., Dr. Hendricks has received several accolades throughout her career including being named the Central Intercollegiate Athletic Association (CIAA) Senior Woman Administrator of the Year in 2007, an appointment to a four-year term on the NCAA Academic Requirements Committee (2010-2014) and she served on the NCAA Initial Eligibility Waivers Sub-Committee.

When the Chicago Citizen Newspaper asked Dr. Hendricks how she will maintain the academic excellence recently achieved by CSU athletes, she replied, "This is what our priorities are going to be here: number one – student-athlete welfare, number two - academic excellence, and number three athletic-excellence. If our student-athletes are not OK they're not going to do anything in the classroom and if they're not doing anything in the classroom they're not going to be doing anything on the field, court, track or whatever. We need to make sure that they're alright because if they're alright they can concentrate in the classroom and if they can concentrate in the classroom and then they can concentrate on the field; both things go hand-in-hand. That's how we're going to govern ourselves and that's how we're going to make decisions,"
CSU also announced the university's upcoming plans to add a women's soccer team to its athletic program, of which Hendricks will also oversee.
"It's historical that an African-American woman has been selected to be the athletic director here at Chicago State [University]," said Conrad Worrill, Director of the Carruthers Center for Northeastern Illinois University, who attended the press conference. "We're very excited; it appears from her background, her resume and her rise up in athletic administration that she has all the tools, equipment, intellect and experience to do the job. We want to give the new athletic director a warm Chicago welcome, wish her well and give her all the networks necessary to do her job."
For more information visit www.csu.edu